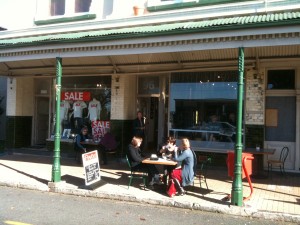 What better place to start this endeavour than a trip to an excellent North Shore cafe for a satisfying flat white and a bite to eat. While I'm particular about not becoming addicted to coffee, I have a passion for well executed roasting and extraction and I'm constantly on the lookout for the good stuff. Call me a snob, but when it comes to food and drink, it's good to be fresh, tasty and produced by people who have respect for their product.
I like having an excuse to go to Birkenhead, and Birkenhead Point in particular, with its gorgeous colonial villas, boutique shops and award winning cafes within close proximity. Flavour is located at 96 Hinemoa Street, in an original block of shops dating back to the time when folk travelled to the North Shore by ferry, then travelled by horse and cart up this road to pick strawberries and enjoy the relaxed beach lifestyle (not much has changed, really). The deli and cafe has a lovely interior, with fancy cornices, antique dressers displaying delicious local and imported goods such as olive oils (Mangawhai, gold medal), Italian pasta in many styles, jams and pickles, anything to whet a jaded appetite!
The lunch cabinet is filled with a good selection of fresh, colourful sandwiches, pies, tarts and sweet treats. We settled on a roast beef bap and a chicken pie; both were served with a salad and chutney on the side and were very tasty and satisfying. The coffee (from Roasted Addiqtion) was full flavoured and passed my own particular standard with flying colours.
Flavour is well set up as a catering company and their website is well worth visiting if you have an occasion coming up, whether private or corporate. The website is simple and clean, with a menu to choose from according to the type of function you are catering for. It also includes some helpful guidelines in the FAQ page on how to plan for your function. They will deliver for a nominal charge, or you can pick up from the store.