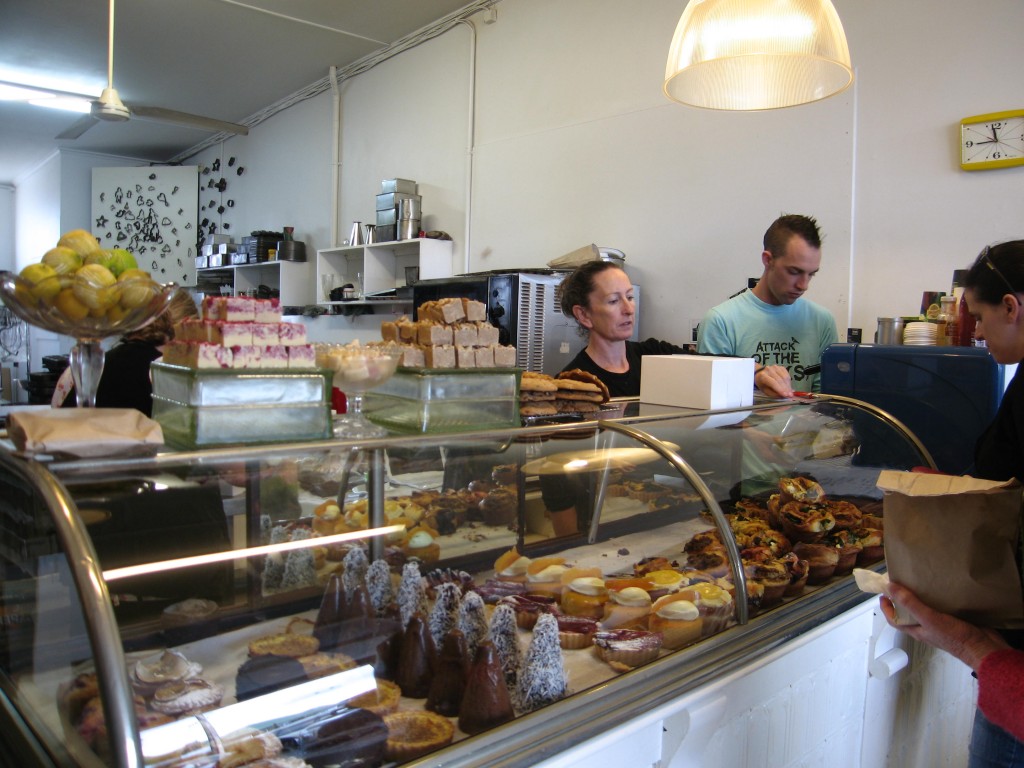 A cafe with a name as cute as this has to be on the list of things to do on the North Shore. It's little indeed –  a commercial kitchen with a bit of space out the front for customers. And it was only supposed to be open on Fridays. Fortunately, they're now open Wednesday to Sunday, between 8 am and 3 pm.
The kitchen is separated from the public area by a glass counter that's just bursting with  delightful looking goodies – quiches, cakes, brioche both sweet and savoury, and wonderful pies. Homemade fudge is piled high on the counter and the individual-serve cakes are works of art. They serve Supreme coffee (an awesome Wellington roastery) and the friendly barista makes a great espresso.
Sitting in Little and Friday is a bit like being in your mother's (or grandmother's) kitchen. Wonderful aromas waft out,  you can see everything that's going on, and you get to sit around the big old dining table with its linen tablecloth, array of cookbooks, bowls of fruit, vase of flowers and fresh baked cookies under retro glass covers. It's cluttered, homely and unpretentious. Even the outdoor furniture is an intriguing collection of old wooden beer crates, packing boxes and odd chairs.
This wee cafe is very popular with the locals – it's run by people who are passionate about food and the passion is contagious. Read what the locals say about Little and Friday. You can order whole cakes and anything else on the menu by phoning 489 8527 or email kim@exquisit.co.nz