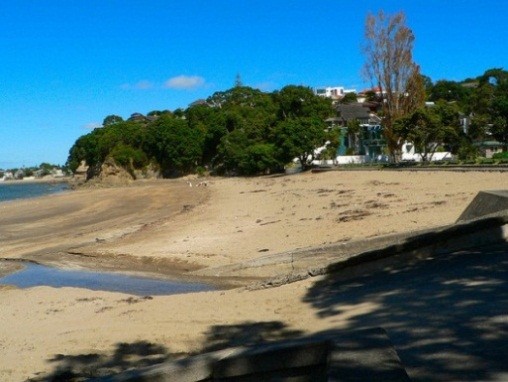 Campbells Bay
Campbells Bay lies between Castor Bay and Mairangi Bay. The name recalls an early landowner, possibly Duncan Campbell. It is  popular with families, executive couples and retirees as it offers a residential area which is largely devoid of commercial development, while providing a number of pristine outdoor amenities. Aproximately 2,500 people live in Campbells Bay and about a quarter of these are under the age of 15. For information on the demographics of Campbells Bay, visit Statistics New Zealand.
Population:
In 2011, there were 2316 people in Campbells Bay, up 111 on 2001
Ethnicity:
83% are European, 5% Asian, 3% Maori
Education:
53% have a tertiary qualification, higher than average for Auckland
Work/Income:
Mostly management and professionals, and 37% earn more than $50,000 pa
Families:
This is a family orientated suburb – couples with children make up 55% of all families, and couples without children make up 36% of all families, in one family households.
Housing:
Most homes are privately owned and occupied
Local Schools:
Campbells Bay School
Aberdeen Road, Castor Bay    Ph.  09 4107444
To view a list of Mairangi Bay Childcare Centres click here
Mairangi Bay Playcentre, 112 Kowhai Road, Mairangi Bay Ph.  09 4783316
Murrays Bay Intermediate, 37 Sunrise Avenue, Murrays Bay  Ph. 09 4772121
Wairau Intermediate School, 113 Becroft Drive, Forrest Hill Ph. 09 4107805
High School zoning:
Campbells Bay residents have the choice of 3 of the most sought after public secondary schools on the North Shore:
Rangitoto College – 564 East Coast Road, Mairangi Bay Ph. 09 4770150
Westlake Girls High School  –  2 Wairau Road, Takapuna  Ph. 09 4894168
Westlake Boys High School, 30 Forrest Hill Road,  Forrest Hill  Ph. 09 4108667
With easy access to Rosmini College and Carmel College
*source Statistics New Zealand 2011  www.stats.govt.nz
Parks: 
Centennial Park entrance off Beach Road or East Coast Road – a large park of regenerating bush.  To view a copy of the brochure click here.
Campbells Bay Beach – pretty and safe for swimming, fishing from the rocks, or snorkelling.  Easy walk to Mairangi Bay around the rocks, watch out for high tide though, part of Te Arawa.
Sports:                              Pupuke Golf Club – spectacular views and a challenging rolling course
Campbells Bay Tennis Club – in Centennial Park
Nearby Suburbs               Castor Bay, Mairangi Bay, Forrest Hill
Nearby Shopping             Mairangi Bay shops – mainstreet
Milford shops – mainstreet and mall
Campbells Bay Beach
Campbells Bay beach is a small, safe swimming beach accessed from either The Esplanade or Huntly Reserve at the end of Huntly Road. The reserve covers just under half a hectare of mainly level land on the southern side of Campbells Bay stream. A bridge over the stream provides safe high tide access to the beach and the reserve is used for a wide range of informal activities such as cricket, kite flying and picnics. There's  a modular style playground, which is partly fenced, and  a toiletblock, as well. The local community has a significant interest in the care and development of this reserve – a relationship which is encouraged by the council – and there are regular working bees, public events and other activities.
Campbells Bay School
Campbells Bay School opened on August 31, 1925 with a roll of 16 children. The school was built on three and a half acres of tea-tree scrub which was cleared by enthusiastic locals. Some of the pupils walked from as far away as Rothesay Bay to attend. The local roads were rough, there was no electricity and little transport. In the 1930s, speeding traffic was a problem on Aberdeen Road,  and the Boys Traffic Patrol was introduced in 1939. Renowned NZ poet Sam Hunt (who was born in Castor Bay and grew up in Milford) attended Campbells Bay School in the 1950s. By the end of 1966, there were almost 1000 pupils attending, making it one of the largest primary schools in New Zealand.
The school celebrated its 75th Jubilee in 2000. The restoration and development of the Community Forest became the Jubilee Project and reflects the volunteer work that has been done at nearby Centennial Park. Parents, children, Milford Rotary and other locals volunteered their time to clear weeds, plant hundreds of trees and shrubs and build a walkway. Classes are now using the forest for bird and insect studies, and to learn about plants and conservation.
(Ref: Campbells Bay School 75th Jubilee yearbook 2000)
Centennial Park
One of Auckland's largest metropolitan parks, Centennial Park was gazetted as a recreation reserve in 1884 and originally called The Takapuna Domain. The park was mainly covered in low scrub when European settlers came to the area in the 1920s. There's evidence of gumdiggers alongside the raupo swamp on the Kohekohe track – two distinctive hut sites. Gumdiggers were living near the end of Park Rise as late as the 1920s. In 1914, Pupuke Golf Club was incorporated and 100 acres of this reserve was eventually cleared for the golf course.The club boasts spectacular views of the Hauraki Gulf, and the bush surrounds add to the tranquility of the location. While the course is not large, it is challenging. Visitors are welcome.
The park was renamed in 1940 at the time of the NZ centennial celebrations and extensive planting was undertaken – the pohutukawa avenue along the southern boundary between Beach and Rae Roads was planted by men going off to WWII. Locals helped with the planting. The Campbells Bay Tennis Club was incorporated into the park in 1948 and is arguably  the most picturesque on the North Shore. A progressive and active club, it has over 500 members, six all-weather courts, a new lighting system and a modern clubhouse. Every day of the week sees organised tennis activities for members. Non-members are welcome to play for a nominal fee.
The park passed into the care of the East Coast Bays Borough Council in 1955.  Largely left to its own devices up to the late 1970s, the bush grew thick and impenetrable for a long time. When it was threatened with being felled, local people were suddenly awakened to its value and a management policy to protect and maintain this extensive public amenity was put in place. Recent decades have seen the planting of trees such as nikau, kawakawa, taraire, tawa and rewarewa. Earlier plantings include totara, rimu, miro and kowhai. Even kauri is slowly coming back and, of course, there's plenty of manuka. Invasive exotics from neighbouring gardens are regularly removed. Many native birds, as well as introduced species, make their home here and birdsong is rich and varied. There are tuis, fantails, grey warblers, wood pigeons, rosellas, thrushes and blackbirds, to name just some of the birds to be seen and heard in this beautiful local park.
View a map of the park on Google Maps.
(Ref: Just Scrub: The Story of the Campbells Bay Bush compiled by John Morton for the Campbells Bay Bush Society)
Other Local Amenities
Feathers Olde English Restaurant and Campbells Bay Dairy are located at 3 The Esplanade. There are two local churches – All Saints Methodist Church on the corner of Park Rise and Beach Road, and St John's Anglican Church is located at 327 Beach Road.
Chidcare for under 5s is available at Mairangi Bay Playcentre – right next to the golf course at 112 Kowhai Road.