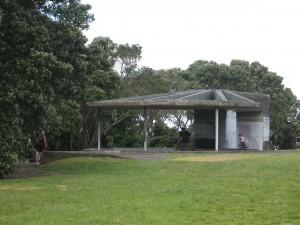 Proudly Sponsored and Supported by Tony & Pip White and the Management at Harcourts Milford.
JF Kennedy Park (formerly known as Red Bluff) played host, in 1942 and beyond, to the 63rd Battery 9th Heavy (coastal) Regiment RNZ Artillery and the accompanying Battery Observation Post and barracks. There was a real threat of invasion by Japan as a result of their activity in the Pacific and this was one of a number of installations built during the period.
According to the publication Takapuna: People and Places, Kennedy Park was camouflaged as a state housing area. These were the original barrack buildings. "The gunpits are connected by a tunnel with various compartments for ammunition etc. Each gunpit was disguised to look like a house with a roof and chimney. What was once the parade ground is now a petanque court, with a lively membership and regualr tournaments. Below Kennedy Park, halfway down the cliff, are the concrete remains of two searchlight emplacements. The army also built a set of wooden steps leading down to the beach. This was damaged by erosion and has recently been replaced with a brand new staircase.
The Kennedy Park Intallations Preservation Trust (a registered charity) has been formed by a group of local enthusiasts and military experts to restore, protect, document and publicise the installations. The tunnels will be open to the public on the second Sunday of each month, from 11am to 2pm.
Entry is by gold coin donation. Enquiries can be directed to society Chairperson John Crews on 09 410 2653 or 021 2229140
Click here view the kennedy park booklet – a pictorial information booklet on the WWII Installations project.