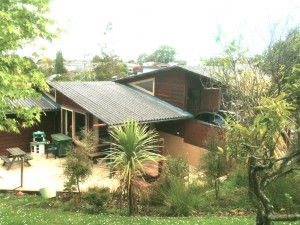 I love these homes and it was a real pleasure to find another. They showcase New Zealand architectural innovation in the mid 20th century. The architect here is James Hackman from 1966. The home hugs the contour of the hill and is oriented to the north to take advantage of the outdoor living. This one has a carport and has a Frank Lloyd Wright feel.
Interiors are open plan living of course with extensive use of rimu flooring, cupboards and a bespoke kitchen. Completely original throughout I detected only that the owners has painted the ceiling beams.
Bedrooms are not large with the emphasis on family living in the two lounges on different levels. Everywhere built in rimu cupboards for storage. While 15 years younger than the one I sold at 103 Oceanview Road back in June it still show the hallmarks of  a true Group Architect home. Are they selling? Not yet!
You may know more about the architect and of other similar homes, I would love to know!