Why is it that shopping malls are so well patronised? After all, they're pretty much clones – when you've seen one, you've seen them all, right? That may be a little harsh, and there are still a few independent malls around the place, like Milford. I can see the benefit of malls in Australia with their ridiculously high summer temperatures. There's no better way to escape the heat on the Gold Coast than by ducking into one of the many local malls for a few hours of air conditioned relief. But in Auckland, with its mild climate, why lose yourself in a windowless cavern of mass produced goods when you could be enjoying the diversity of main street shopping (MSS) on a fine summer's day.
As New Zealand's Lifestyle City, the North Shore has a lot to brag about with many of its local shopping centres hugging the coastline. The local retail experience tends to be  laid back compared to places such as Newmarket and Ponsonby; MSS on the Shore can be interspersed with a swim, a picnic or a stroll on the beach.
I can't say I never venture into a mall. But I like the fact MSS allows for independent retailers to ply their trade, without the horrendous overheads of a mall, and the experience can enliven the senses of even the most jaded of shoppers.
Browns Bay Shopping Centre
This is an oldie but a goodie, without a mall in sight. It really has a relaxed, beachside feel about it, and reflects the diversity of its local citizens. All your weekly shopping needs can be satisfied in Browns Bay as it is well serviced for food, clothes (both men's and women's) and financial services. All the major banks are here, including Post Shop; there are 2 supermarkets, a South African specialty store and cafe, Janssen's Specialty Meats and Bramptin's English Grocery. A good number of restaurants and cafes offer a variety of fare including French, Chinese, Japanese, Indian, Italian, English and German. It has the good old fashioned basics like op shops, clothing repair, a wool shop, stationers and manchester, as well as some that are becoming increasingly rare such as a CD store, a fish shop and butchery. Browns Bay is substantial enough to have a WINZ office, a hearing clinic and a pet shop. On your way to the beach, you can call in for a sweet treat at the ice cream parlour.
The shop that has me travel to Browns Bay shopping centre? The German Cafe and Deli called Tasty and Delicious on Inverness Road. They have all things "lecker schmecken"  – pretzel, black bread, torte and chocolate included.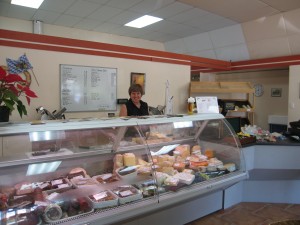 Mairangi Bay
Though much smaller than Browns Bay, Mairangi Bay Village packs in a lot of lifestyle retail choices. It's a favourite with Ladies-Who-Lunch.There's plenty of free parking behind the shops, but you might be lucky and score a park on the main street. Apart from being dominated by Real Estate offices (something the Business Association in Browns Bay is strongly opposed to), the main street has more than its fair share of women's clothing boutiques (from everday wear to the high-end fashion of Lejose) and eateries. There is a supermarket tucked discreetly away up a side street, and you can buy fresh fish from the local fish monger. Specialty shops that are unique to Mairangi Bay are Janbells Uniforms (very busy right now supplying school uniforms), and Nikau – selling beautiful New Zealand giftware.
The shop that has me travel to Mairangi Bay Village? Martini Interiors in The Gables. It's a little bit of Grey Lynn on the Shore. Owners Terry and Karen specialise in "retro chic" –  furniture and collectables from the 50s, 60s and 70s.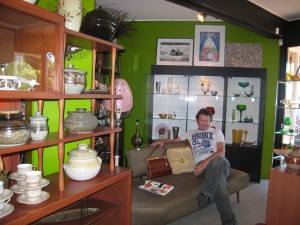 Takapuna Shopping Centre
This is the shopping centre that holds the most memories for me, with the iconic Hall's Corner Building, The Strand and The Promenade. This is where I would go to shop with my mother as a 5 year old when we lived above the old Takapuna Post Office. Much has changed about The MSS, and of course the mall has been a fixture since the early 70s. The town is not without its share of controversy, as there are those who believe it should be the North Shore's premiere shopping precinct, with its beautiful beach and some of the most expensive real estate in Auckland. The recent addition of The Department Store in Huron Street a collective of high end designers such as karen Walker and Simon James Furniture and Blackbox Design.Scott Donovan of Life For Men is one local retailer who has always believed in the strength of Takapuna as a shopping destination, and he demonstrates his belief by operating two menswear stores on Hurstmere Road covering all the bases from beachwear to Hugo Boss suits and shoes.
Rents are high in Takapuna, so there's very little free parking available (unless you're shopping in the mall). The most beautiful parking spaces in Auckland must be those on The Strand. Your vehicle gets to gaze out over the beach to Rangitoto all day. Wouldn't it be lovely if we could have some cafes there instead!
Mainstreet Takapuna, like Browns Bay, is a large, well-serviced shopping centre with a focus on entertainment rather than everyday needs. There are well over 50 eateries, from fast food joints to cafes and restaurants, taking in a wide ethnic diversity. If you love shopping for clothes, Takapuna is bound to have what you want with more than 25 stores (that's not counting what's in the mall!). The place is also well stocked with optometrists, banks (the only place on the Shore to have HSBC and TSB)  florists, giftware, beauty therapy and tanning clinics. There's a couple of bookshops, some op shops and 2 nail bars. Specialty shops include a hard-to-find music supply shop in Lake Road, a Shaver Centre which sells and services small appliances and shaving paraphernalia on Huron Street, The Olde Lolly Shop in the Parkway Arcade and "Auckland's Largest Choclate Shop" at Choclate Heaven. Just to remind you there's a beach not far away, there are two icecream parlours, including a morish Movenpick shop.
The shop that has me travel to Takapuna? Life For Men when I want to buy something smart for Tony to wear.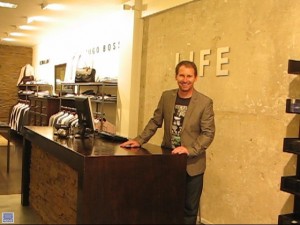 Birkenhead (Highbury)
Highbury has only a small mall, so most of the shops are out on the street. All the basics are there, with an emphasis on home improvement and food. There are 2 butcher shops!!, a fish monger and 2 clothing alteration places. There are also many high-end shops, catering for your fashion, interior design and health and beauty needs.
Specialty shops include Wallace Cotton (a little hard to find, but well worth the search), a Hobby Shop and Earthly Treasures (supplying rocks, crystals and stamps to avid collectors). If you need new glasses, shoes, a hearing aid or stationery, you'll be able to buy them in Highbury. If you're down on your luck or you love a bargain, there's a big pawn broker and a number of op shops on the main street. You'll always find somewhere good for lunch or dinner in mainstreet Birkenhead, and if you want something really special, wander down towards the wharf to sample the fare from a number of great cafes and restaurants. There are some lovely antique and giftware retailers there, too.
The shop that has me travel to Birkenhead? Ashore Fine Foods & Wine for their imported and local boutique beers, Denheath Custard Squares from Timaru and lots of other deli treats.
Devonport
The North Shore's oldest main street shopping centre and the only one with that authentic, old-fashioned village feel, Devonport attracts many thousands of local and overseas tourists to browse, eat and relax in a picturesque maritime setting. Thanks to the staunch attitude of the local heritage trust, Devonport has retained much of its original Victorian architecture.
Devonport is a place to admire and buy beautiful things, whether it be artwork from one of the many galleries, such as Peter Raos Glassware, original women's fashion, vintage and rare books (they're not second-hand in Devonport), or some objets d"Art from an antique or interior design store. You can also enjoy beautiful food from any number of cafes and restaurants, whether fine dining at the Esplanade, or good hearty English pub fare from The Patriot. The building formerly known as Jackson's Museum is now a high-end retail outlet housing such exclusive boutiques as Oscuro Lamps, a Millinery (where you can take lessons in hat-making) and Bramptin's The UK Grocer.
Everyday shopping needs are well catered for in Devonport; it even has a sizeable Hammer Hardware – such practical shops are becoming a rarity in MSS – a specialty butcher, pharmacy, optometrist and hair and beauty salons. Wild and Woolly Yarns will supply all your knitting materials, and there's also a patchwork fabric shop. It is good to see the music shop still in existence (now owned by Marbecks). The Shore's best supermarket is in Devonport and there's a gelato shop you can call into on your way to the wharf.
The shop that has me travel to Devonport? There are many, but the Stone Oven Baker, in Clarence Street, is a favourite.  They make great bread from scratch. And I can't leave out Devonport Chocolates which produces some of the most delicious hand-made chocolate in existence!
Milford
MSS in Milford is functional, with 2 supermarkets, 2 green grocers and a hardware shop, but you'll also be able to enjoy a great meal. Most of the fashion happens in the Mall (which is excellent as far as malls go). Frog In A Barrel is an excellent place to buy wine (both French and local) as the French owner Richard is passionate about his product and will always have a story to tell. Pepitos is a good place to meet friends for a drink and tapas after work. They also have a trrific selection of beers. Crafty Knitwits combines all things knitting with delicious lunches, Devonshire scones and even high tea; an excellent place for ladies. The Cheese Shop is well supplied with not only a great selection of local and imported cheeses, but a number of local artisan foods, freshly baked cheese scones and salads or soup (depending on the season). Little King Cafe is a raging success, always busy, noisy, friendly and well stocked with goodies.
The shop that has me travel to Milford? Arazzo – you'll always find a special gift in this beautiful shop and Diana, the owner, does an amazing gift wrap.