Architecturally stunning, full of natural light, with inviting, open spaces – the new Library and Civic Centre in Hinemoa Street, Birkenhead is an exciting taonga for the local community and the whole of the North Shore. After 4 years of debate on where, why and how the new building was to be, the final result was well worth the wait.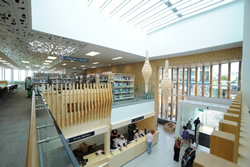 Opened in December 2009, it is a beautiful combination of brick, timber and stone, on both the interior and exterior. It's basically a rectangle, but the combination of materials and textures as well as some superb architectural features, are anything but ordinary.  A series of timber fins along the  northern side screen out the road and filter the sunlight. Inside the library, you are very aware of the natural beauty of the surrounding area, thanks to the amount of glazing. The western wall is just windows, providing views over the upper harbour and across the western suburbs. Funky stencilled panels on the south facing wall screen out the neighbouring apartments and there are full length panoramic windows that frame the views of the harbour, the CBD and a number of volcanic cones.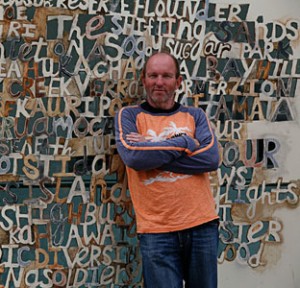 There's not much art work inside the library – but the building itself is a work of art, as are the views. Outside the building are some sculptural panels by artist Jeff Thomson – "cut-out words and phrases of significance to local people". I think it is a nice link with the contents of the building – books that contain words and phrases. Of course, that's the other reason to visit the library – it has lots of great books for you to read!
View a short video of the official opening of the Birkenhead Library and Civic Centre
The library has recently won an excellence award for architecture. Click here to read the NSCC' s article on the award.