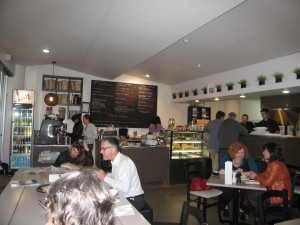 I reckon if I were to open a cafe in Takapuna, it would just about look like Jam Organic Cafe in Hurstmere Road (behind Movenpick). We've had to follow owner Jules from her previous cafe in Milford, but it didn't take long to find her, and her trademark blackboard menu, big pitchers of water brimming with chunks of seasonal fruit, and some of the best looking cafe food you'll find on the Shore continue to draw a loyal following. Jam's MO is to use organic and locally sourced produce where possible, and they don't compromise on quantity, either. The Jam burger is massive (I could probably manage a half), packed with avocado, beef patty, bacon, lettuce, horseradish sauce, tomato, aioli (I think I got it all) – I'd defy anyone to get their gob around one of these monsters – Knife and fork required!
Jam has a liquor license and a fairly comprehensive range of wines (including some organic wine) and beer. The coffee roast is one of the best around (Toasted Espresso) and they have baristas that know how to do a good extraction. I have yet to be disappointed with a coffee from Jam.
This place is well patronised, especially by the road biking fraternity in the mornings. There's plenty of seating, inside and out, including a big communal dining table with arty/foodie books to browse. Lots of fun, quirky details that will amuse, like getting a jar of jam to identify your table order, rather than a predicable old number.