This appears to be the only market on the North Shore which claims to be a Farmers' Market. What this term means, loosely, is a market in which the majority of the produce is produced or grown within a defined local area. The raw product for manufactured goods should be locally produced or grown, where possible, but exceptions can be made if adding value. For more information, go to the official website for Farmers' Markets in NZ.
Taking place on the first and third Saturday of the month, from 8am to 1pm in the King George Coronation Hall (cnr Library Lane & albany Highway), this is a small, friendly and very much local market. Being indoors, it is not affected by inclement weather and is limited in size. There is a fresh produce stallholder who prefers to set up shop just outside the front door, however.
In general, and possibly surprisingly (since it is a Farmers Market), there is very little in the way of fresh fruit and vegetables available. I would describe the products as artisanal, with a major focus on baked goods. Ali, who originates from Casablana , sells his wife's home-made Moroccan-style biscuits (many of these are gluten free, containing ground nuts rather than wheat flour) – quite delicious.
Sweet Surrender offers beautifully crafted small cakes and slices – they look and taste divine, and one of the neighbouring stallholders insisted I try the gluten and dairy-free chocolate brownie. I wasn't sorry he talked me into it! His stall sells free range, German style pork sausages (preservative free) manufactured by a small company called Delighthouse. They come in 3 styles – mild, medium and hot.
Pies seem to be very popular at this market, and they are many and varied. I'm tempted to came back especially to try the Original Scottish Pies. I did purchase a bag of organic vanilla beans (imported from Tahiti – NZ isn't warm enough to grow them), and they are fresh, juicy and aromatic. The NZ Cheese Man has a stall with a good selection of NZ cheeses, including the delicious range from Evansdale (produced at the old Cherry Farm in North Otago). Stuffed olives seem to be present at every market on the Shore, but this stall is complemented by fresh, natural lemonade – a nice, old fashioned treat. Bagels from Bagel Love are in plentiful supply, with a good range of flavours. Last but not least, La Maison du Chocolat makes a beautiful and moreish display of handmade chocolate treats.
Apart from all the delicious types of food, the market has a stall selling Tinopai Oils – body oils containing a variety of essential oils such as rosemary, evening primrose and lavendar, for relaxation, health and healing. Another stallholder, Claire Green, is a passionate "researcher" who promotes S.A.F.E products such as organic whole green foods (concentrated powders derived from green vegetables and seaweed), natural skincare and herbal extracts. I came away from a long chat with her about the benefits of these supplements, with a stack of interesting articles to read. Feel At Home is a Whangaparaoa based business which manufactures beautiful natural soaps, massage oils, healing balms and natural bristle brushes which promote health and well-being.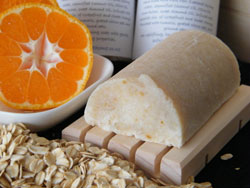 I can recommend Albany Farmers Market as place to relax, talk to the locals and sample some delicious foods and wholesome natural products. No-one seems to be in any sort of hurry, but make sure you bring cash as there is only one, difficult-to-find ATM in Albany. The Village seems to have been abandoned by the banks.