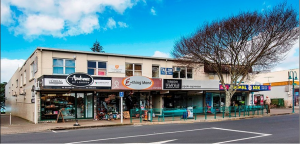 There's something rather nice about Browns Bay Shopping Centre. It's an oldie but a goodie, without a mall in sight. It really has a relaxed, beachside feel about it, and reflects the diversity of its local citizens.
All your weekly shopping needs can be satisfied in Browns Bay as it is well serviced for food, clothes (both men's and women's) and financial services.
All the major banks are here, including Post Shop; there are 2 supermarkets, a South African specialty store and cafe, Janssen's Specialty Meats and Bramptin's English Grocery. A good number of restaurants and cafes offer a variety of fare including French, Chinese, Japanese, Indian, Italian, English and German.
It has the good old fashioned basics like op shops, clothing repair, a wool shop, stationers and manchester, as well as some that are becoming increasingly rare such as a CD store, a fish shop and butchery.
Browns Bay is substantial enough to have a WINZ office, a hearing clinic and a pet shop.
Deep Creeks Brew Bar on the main street has plenty of atmosphere, good hearty pub food and some excellent beers on tap. On your way to the beach, you can call in for a sweet treat at the ice cream parlour.
Click here to find out about events in Browns Bay.
The shop that has me travel to Browns Bay shopping centre? The German Cafe and Deli called Tasty and Delicious on Inverness Road. They have all things "lecker schmecken"  – pretzel, black bread, torte and chocolate included.