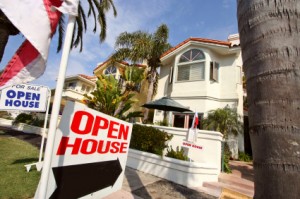 Open Homes are a great way to find a home on the North Shore! They are also a great way to find the right agent to sell your North Shore Home.
A favorite pastime of many people — whether in the market to buy or sell a home or simply curious — is to attend a weekend Open Home. In fact, checking out open homes is almost a religious experience in Auckland. Everybody seems to go to open homes.
If you're wondering about the proper open home etiquette or have questions about the role of the agent holding the open home, here are some suggestions to help make your open home visit productive.
Agent Roles at Open Homes
Because not all real estate agents host open homes in the same way, you can't always be certain who will answer the door. It could be the listing agent, a buyer's agent or even the seller. One thing is for certain, you do not need to ring the door bell or knock, unless there is a sign posted instructing you to do so. Open the door and walk in. If you don't see an agent, call out "hello," just in case the agent is, um, otherwise occupied in a private room. Usually there is a sign asking you to remove your shoes, most people to unless the agent says not to bother.
Here are types of agents you may encounter:
Standing at the front door to greet you. This type of agent will shake your hand, introduce himself or herself, get your name, hand you a flyer and say, "Go on through at your own pace." The agent might even follow you to point out features and answer questions you didn't realize you had.
In the driveway, asleep behind the wheel of their car. This agent might leave the door ajar and never get up to greet you. Feel free to go inside anyway. Make a note of the agent's name and promise yourself you will never call this company or the agent.
Reading a book or the newspaper in another room. The non-engaging type agent will say, "There is information on the bench. If you have any questions, let me know." Generally, this is an agent who didn't really want to hold open the home but is doing it so she can tell their seller they did.
Is the Open Home Agent the Listing Agent?
The best way to find out if the agent holding the open home is the listing agent is to ask. You can't always count on the fact that the agent's name will be on the For Sale sign or that the agent will be wearing a name badge. Sometimes two agents co-list a home.
Occasionally,  the agent holding the open home will not be the listing agent but an associate agent. This agent will be hoping to represent a buyer to buy that home or, for that matter, any other home.
If the home is a private sale, the person showing the home may be the owner or an associate of the owner. They may not ask for your name and number, feel free to view.
Open Home Buyers With Agent Representation
If you are already working with an another agent and you want that agent to represent you,  your agent should accompany you to the open home. If the agent cannot attend they should make an arrangement for you to visit. Most agents conducting an open home would expect to represent you should you wish to buy, unless they have an arrangement with your agent.
The easiest way to inform the agent you meet that you are working with another agent is to ask your agent to call first.
Open House Home Buyers Without Agent Representation
If you have not yet decided on an agent, let the agent at the open home know that you are looking for someone to help you buy a house. Maybe you will want to interview the agent to determine if you want to work with them. Ask the tough questions to get the right answers.
Open homes are a good way to find an agent because you will meet face-to-face. You can witness the agent in action as well.
Open Home Buyers Who Stop on a Whim
Often, buyers will drop in on an open home simply because it is open. Maybe it's a home that you've often admired on that street and are curious to see what it looks like inside. If that's the case, just tell the agent you have no inclination to buy. You can still tour the home. And who knows, more than one person has decided to buy a home because they unexpectedly and immediately fell in love it!
Neighbours Who Visit Open Houses
You might think the agent doesn't want you to come to the open home if you are a neighbour, but actually, the agent would love to show the home and get your feedback. Neighbours are a great source of information. In addition, you might have a friend or coworker who could be interested in the home. So don't feel embarrassed to admit to the agent that you are "a nosy neighbour".